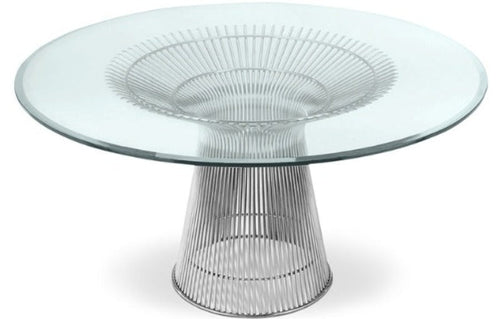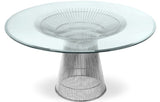 Chic
Original
Artisanal
Intemporel
Garantie 3 ans
Sensationnelle


ORIGINAL & EXCLUSIVE
En 1966,

 

Warren Platner

 

dessine une collection de mobilier, devenue iconique, qui se caractérise par une silhouette sculpturale. En transformant de simples tiges d'acier, l'architecte et designer donne naissance à une collection élégante de sièges et de tables avec une base formée de faisceaux de fils d'acier. Cette table inspirée directement de son labeur, offre une surface et un design idéal pour une salle à manger, associée par exemple à des chaises de la même collection.


QUALITE & PREMIUM
Cette table, dont la base est en acier inoxydable et le plateau en verre, mêle le raffinement au pratique. Originale et contemporaine, elle peut aussi bien servir à l'intérieur qu'à l'extérieur et s'assortie parfaitement aux chaises PLATINA. Elle s'adapte également très bien à des styles différents, du classique au moderne. Son côté versatile, polyvalent et compacte fera certainement plus d'un jaloux.
Cet objet solide et pratique à la fois, ajoutera une note de glamour et d'élégance à votre foyer. 
DIMENSIONS
POLYVALENCE
Cette somptueuse table premium saura trouver sa place avec charme et harmonie dans une cuisine, une salle de conférence ou une terrasse.

DELIVERY TIME

SWITZERLAND

= 4 to 7 days*.

FRANCE = 4 to 7 days*.

GERMANY = 7 to 10 days*.

BELGIUM = 7 to 10 days*.

REST OF EUROPE = 1 to 2 weeks*.

PRODUCT RETURNS

You have 7 days to return the unwanted product to us by contacting us via the "Contact" section.
WARRANTY

The products we make available to you on our site have been rigorously selected and tested by our team. That's why we are proud to offer you a 2-year warranty on each of our products.
DELIVERY IN EUROPE
We ship everywhere in Europe with La Poste.
SATISFIED OR REFUNDED
We refund you if you are not satisfied.
24/7 CUSTOMER SERVICE
Team at your disposal in French or English.
SECURE PAYMENTS
100% secure payment management with STRIPE.